Quick View
ITEM NUMBER: BHS296
TOTAL QUANTITY: 31 AVAILABLE SIZES: 4 X-SMALL 11 SMALL 7 MEDIUM 2 LARGE 2 X-LARGE 4 XX-LARGE 1 XXX-LARGE BY SPARKLE, THIS JACKET IS SURE TO DAZZLE THEM! THIS BLACK AND FUCHSIA SEQUINED PEPLUM JACKET FEATURES A BLACK ZIP FRONT CLOSURE, AND A DESIGNER PATTERN ON THE FRONT. THE SLEEVES FEATURES A ROUCHING WITH SOME PUFFINESS AT THE TOP OF BOTH AND THEY ARE 3/4 IN LENGTH. THE PEPLUM SKIRT HAS A BLACK SATIN LAYER AND THEN A FUCHSIA SEQUINED LAYER ON TOP THAT GOES HIGH AT THE FRONT ZIPPER AND THEN DESCENDS DOWN LOW IN THE BACK. **RUNS SMALL AND HAS LITTLE TO NO STRETCH** MODEL IS WEARING A SIZE MEDIUM.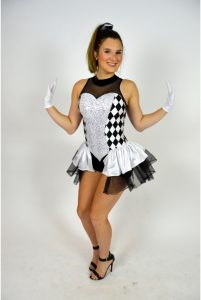 Quick View
ITEM NUMBER: TCCHS15
TOTAL QUANTITY: 75 AVAILABLE SIZES: 28 SMALL 22 MEIDUM 15 LARGE 4 X-LARGE 2 XX-LARGE 3 XXX-LARGE THIS ADORABLE JESTER COSTUME IS NOTHING SHORT OF CUTE, FUN AND SASSY! THIS COSTUME BY CICCI, FEATURES A BLACK VELVET MOCK TURTLE NECK WITH CLASP CLOSURE. FROM THERE, THERE IS BLACK SHEER MESH THAT GOES TO A SWEETHEART NECKLINE WITH BLACK AND WHITE DIAMOND LYCRA PATTERN, AND A SILVER SEQUIN AND WHITE LYCRA BACKGROUND IN THE CENTER OF THE BODY. THERE IS CENTER ROUCHING ON THE CHEST, AND THE BACK HAS A KEYHOLE OPENING THAT OPENS TO THE BRA LINE. THE ATTACHED SKIRT IS LAYERS OF WHITE AND BLACK FABRIC AND HAS A 6" OPENING IN THE FRONT. THE ATTACHED BIKE SHORTS ARE BLACK VELVET WITH A 3" INSEAM. GLOVES MAY NOT BE INCLUDED. THE MODEL IS WEARING A SIZE MEDIUM.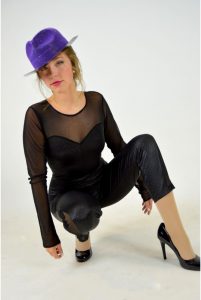 Quick View
ITEM NUMBER: REL114-CL
ALL SALES FINAL ON CLEARANCE ITEMS SOLD IN SETS OF 10 QUANTITY AVAILABLE : 43 BLACK UNITARD WITH SNAKE PRINT AND SWEETHEART NECKLINE. COVERAGE ON THE UPPER NECK AND SLEEVES WITH BLACK SHEER FABRIC. KEYHOLE OPENING IN THE BACK WITH SNAP CLOSURE. BY SPARKLE. SIZES AVAILABLE :  6-X-SMALL 3-SMALL 18-MEDIUM 11-LARGE 4-X-LARGE 1-XXX-LARGE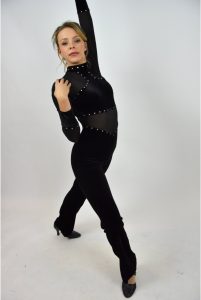 Quick View
ITEM NUMBER: GVHS51
TOTAL QUANTITY: 60 BLACK VELVET UNITARD HAS SHEER MESH LONG SLEEVES AND MESH WAISTLINE. DETAILED WITH SILVER RHINESTONES ALONG FRONT, ARM CUFFS AND TO THE BACKSIDE. SMALL KEYHOLE SNAP CLOSURE AT BACK OF NECK. WEISSMAN'S AVAILABLE SIZES: 15 SMALL 28 MEDIUM 12  LARGE 1  XXX-LARGE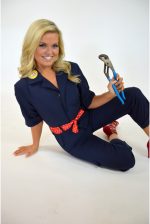 Quick View
ITEM NUMBER: RRHS150
TOTAL QUANTITY: 47 BLUE COVERALLS / ROSIE THE RIVETER OUTFIT. SIZES AVAILABLE: 2 X-SMALL 15 SMALL 19 MEDIUM 6 LARGE 4 X-LARGE 1 XXX- LARGE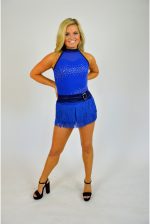 Quick View
ITEM NUMBER:JHS48 TOTAL QUANTITY: 31 THIS SASSY PIECE IS A MADE OF A ROYAL BLUE CAMISOLE BIKETARD WITH ATTACHED NUDE CAMISOLE STRAPS. IT HAS A BLUE MESH HALTER TOP OVERLAY THAT HAS A KEYHOLE BACK, SNAP CLOSURE AT THE NECK AND RHINESTONE EMBELLISHMENT AND ATTACHED LAYERS OF FRINGE.THE ATTACHED BELT AND COLLAR ARE NAVY BLUE. DESIGNED BY CURTAIN CALL. OUR MODEL IS WEARING A MEDIUM. SIZES AVAILABLE: 5  SMALL 14 MEDIUM 5  LARGE 4 X-LARGE 2 XX-LARGE 1 XXX-LARGE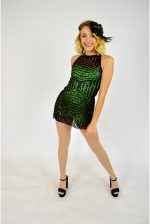 Quick View
ITEM NUMBER: LEW43 TOTAL QUANTITY: 30 THIS DRESS BY CURTAIN CALL HAS A FLORESCENT GREEN LYCRA BIKETARD, WHICH PEEPS THROUGH THE PATTERNED BLACK SEQUIN MESH. THERE IS A SMALL KEYHOLE BACK WITH HOOK CLOSURE AT THE NECK.THERE ARE 2 SMALL SLITS ON EITHER SIDE OF THE DRESS. OUR MODEL IS WEARING A SMALL. SIZES AVAILABLE:  3-LARGE CHILD 2-X-LARGE CHILD 6-SMALL 6-MEDIUM 7-LARGE 2-X-LARGE 4-XXX-LARGE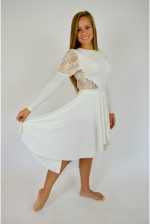 Quick View
ITEM NUMBER: FMM225 TOTAL QUANTITY: 20 THIS ROMANTIC SPARKLE DESIGNED DRESS IS A CREAMY WHITE LYCRA WITH SHEER LACE BACK AND JULIET SLEEVES. THE FLOWING SKIRT DROPS LONGER IN THE BACK. DANCE SHORTS ARE INCLUDED, BUT YOU WILL NEED A SKIN-COLORED BRALETTE FOR COVERAGE.  THIS DRESS RUNS A SIZE LARGE. SIZES AVAILABLE:   7-X-SMALL 7-SMALL 4-MEDIUM 1-X-LARGE 1-XXX-LARGE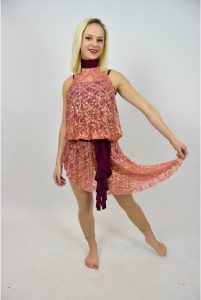 Quick View
ITEM NUMBER: DUL2
TOTAL QUANTITY: 28 AVAILABLE SIZES: 2 X-SMALL 5 SMALL 9 MEDIUM 6 LARGE 1 XXX-LARGE BEAUTIFUL MAROON AND ROSE PINK BIKETARD WITH ATTACHED DRESS. BY LEAPIN LEOTARDS THIS BIKETARD IS FULLY MAROON LYCRA WITH STRETCH THAT HAS A HALTER STYLE AND HAS A CLASP CLOSURE. THE ERE IS ALSO A MAROON LYCRA BELT AND A DROP OF FABRIC THAT FLOWS ATTACHED TO THE WAIST. THE ATTACHED LACE IS IN A ROSE PINK COLOR WITH STRETCH AND FLAT SEQUINS ATTACHED FOR SPARKLE. THE ROSE PINK FABRIC DRAPES AND FLOWS WITH MOVEMENT. THE MODEL IS WEARING A SIZE MEDIUM.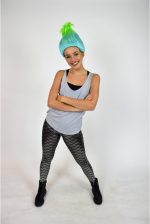 Quick View
ITEM NUMBER: RRHS149
TOTAL QUANTITY: 52 MERMAID HIP HOP SET WITH WIG. SIZES AVAILABLE: TOP: 2 LARGE CHILD, 1 X-LARGE CHILD, 29 SMALL, 21 MEDIUM, 9 LARGE, 3 X-LARGE PANT: 19 SMALL, 24 MEDIUM, 3 LARGE, 4 X-LARGE, 1 XX-LARGE, 1 XXX-LARGE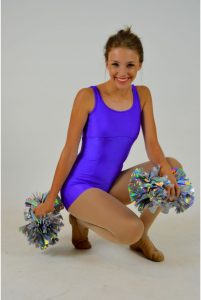 Quick View
ITEM NUMBER: FWHS108-CL
ALL SALES FINAL ON CLEARANCE ITEMS TOTAL QUANTITY: 11 PURPLE TANK TOP STYLE BIKETARD. BY BALTOGS. SIZES INCLUDED: 2-MEDIUM 9-LARGE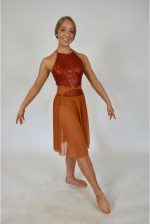 Quick View
ITEM NUMBER: LEW52 TOTAL QUANTITY: 49 THIS SIMPLE DESIGN IS A STANDOUT IN UNIQUE RUST COLORED SEQUIN AND MESH SKIRT. THE DRESS IS BUILT ON A LEOTARD WITH OPEN BACK AND MESH INSET AT WAIST. DESIGNED BY CURTAIN CALL. OUR MODEL IS WEARING A MEDIUM. SIZES AVAILABLE: 8-CHILD LARGE 4-CHILD X-LARGE 8-SMALL 19-MEDIUM 4-LARGE 4-X-LARGE 1-XX-LARGE 1-XXX-LARGE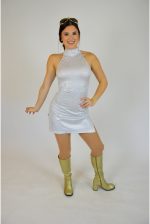 Quick View
ITEM NUMBER: NMZ5 TOTAL QUANTITY: 24 THIS A-LINE HALTER DRESS IS WHITE WITH SILVER IRIDESCENT SPARKLE, TRUNKS ARE NOT INCLUDED. CREATED BY MOTIONWEAR. SIZES AVAILABLE: 2  SMALL 11  MEDIUM 10  LARGE 1 XXX-LARGE