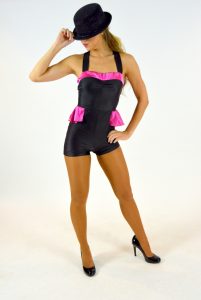 Quick View
ITEM NUMBER: BPBT
TOTAL QUANTITY: 63 AVAILABLE SIZES: 4 X-SMALL 23 SMALL 21 MEDIUM 10 LARGE 5 X-LARGE BIKETARD WITH HIP FLARE ACCENT IN PINK FABRIC WITH RHINESTONES. MADE FROM A LYCRA/SPANDEXBLEND WITH PINK TRIM AROUND THE TOP AND BLACK CRISS CROSS ELASTIC STRAPS. MADE BY SPARKLE.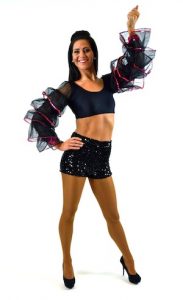 Quick View
ITEM NUMBER: JTHS5-CL
ALL CLEARANCE SALES ARE FINAL. SOLD AS A SET OF 24. INCLUDED SIZES: TOP: 5 SMALL, 20 MEDIUM, 5 LARGE SHORTS: 2 SMALL, 16 MEDIUM, 5 LARGE, 1 X-LARGE BLACK SEQUINED, HIGH-WAISTED BOOTY SHORTS AND BLACK CROP TOP WITH BLACK AND PINK SEQUINED CONGA SLEEVES.
Quick View
ITEM NUMBER: CWHS10-S
TOTAL QUANTITY: 51 TWO PIECE BLACK AND PINK GLITTER LEOTARD AND SKIRT. BLACK LEOTARD WITH ONE LONG SLEEVE AND ONE NO SLEEVE. SKIRT IS BLACK GLITTER WITH PINK LAYERS UNDERNEATH. TWO RUFFLES AT THIGH LENGTH, PUCKER GATHER IN FRONT ON ONE SIDE. MADE BY CLINGONS.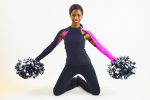 Quick View
ITEM NUMBER: RRHS102
TOTAL QUANTITY: 91
SIZES AVAILABLE: 2 X-SMALL 21 SMALL 50 MEDIUM 14 LARGE 4 X-LARGE
BLACK TOP WITH ONE BLACK LONG SLEEVE AND ONE HOT PINK LONG SLEEVE. CUT OUTS IN SHOULDERS, RHINESTONES ON EDGES AND OPEN BACK. SHORTS NOT INCLUDED. MADE BY VARSITY. POMS ARE AVAILABLE AT
WWW.GETPOMS.COM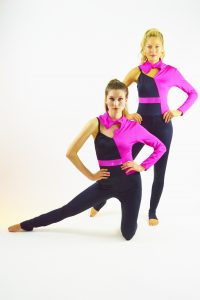 Quick View
ITEM NUMBER: RRHS103-S
TOTAL QUANTITY: 18 BLACK UNITARD WITH HOT PINK LONG SLEEVE, HOT PINK HALF BODY AND HOT PINK COLLAR. MADE BY KELLE.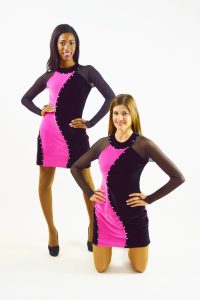 Quick View
ITEM NUMBER: KLR75
TOTAL QUANTITY: 48 BLACK VELVET DRESS WITH PINK BODY, BLACK MESH LONG SLEEVES WITH FINGER LOOPS, BUILT-IN BRA AND LEOTARD. HAS RHINESTONES AROUND EDGE OF PINK AND BLACK AND NECKLINE AND TWO SMALL SLITS ON SIDES. MADE BY UNI-S. SIZES AVAILABLE: 9 SMALL 29 MEDIUM 10 LARGE