Consignment for Sale items are 50% off!
Take advance of our Spring cleaning here at The Costume Closet!  Get 50% off any Consignment for Sale order that is placed between April 11 – May 15, 2019! Discount taken at checkout.  Clearance items (which have already been marked down) and Items for Rental are not included in the 50% off sale.  
To find your great deal, use our search box (top left), go to "For Sale" options on the main menu, or browse below.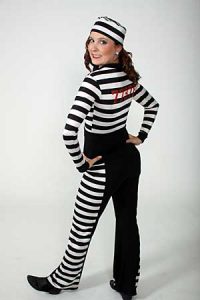 Quick View
ITEM NUMBER: WIL8-S
TOTAL QUANTITY: 11 BLACK AND WHITE NYLON PRISONER PANT SET. LONG SLEEVE,  V-NECK COLLAR TOP HAS  RED NUMBERS ON BACK. HAT INCLUDED. THIS SET IS ORDERED BY THE TOP SIZE, PANTS WILL BE MATCHED AS CLOSELY AS POSSIBLE.
Comments are closed